To speak for the fundamental and economic rights of teaching and non teaching employees working in private institutions all over the nation.
To insist on the adherence to the UGC recommended salary structure for all the employees/staff in private colleges.
To fight against harassments done towards staff members which includes but not limited to: continuous delayed payment of salaries, holding educational certificates, levying unreasonable notice periods, unreasonable deduction of salaries, etc.,
To eliminate the evil practice of decrementing the existing salary of the employees/staff members.
To ensure that the constitutional rights of students are safeguarded in every educational institution.
To condemn and correct the unlawful collection of excess fee from the students of private schools and colleges.
To insist on the improvement in the facilities rendered to students such as hostels, mess, laboratories, drinking water, transportation, toilets, etc.,
To peacefully coordinate with all the legitimate and justified functioning of the managements of private institutions.
The objectives of AIPCEU are not only limited to private colleges but also include private schools. The union will do its best to ensure the rights of staff members in schools. AIPCEU will work towards safeguarding the fundamental rights and liberty of school children at all levels.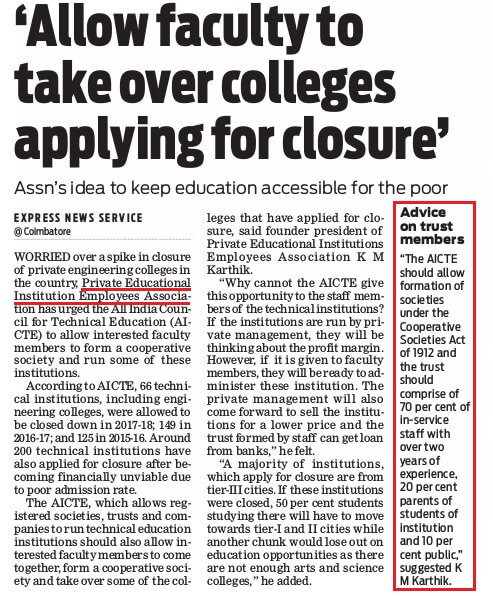 Interested in Joining with Us
Be a Part of the Community